Careers in


Natural Gas Energy
Fuel Your Future with a Natural Gas Career
Over 3.4 million jobs are connected to the direct use of natural gas in the United States and over 83% of this work happens within local communities. That's a lot of jobs, a lot of need, and a lot of employment opportunity!
Natural gas is the earth's cleanest fossil fuel and is used in many ways including for heating, cooking, power generation, and transportation. Americans will continue to rely on the nation's 2.6 million miles of natural gas pipeline infrastructure for decades to come and with that reliance, we will need skilled jobs to transition that infrastructure to deliver renewable natural gas, hydrogen, etc. The natural gas industry is an instrumental leader in helping to achieve the country's climate change goals while maintaining energy reliability, resiliency, safety, and affordability.
Explore The Opportunities That Exist in Careers in Natural Gas
Apprenticeships to Begin Career Journeys
Energy employers recognize apprenticeships as a proven solution for recruiting, training, and retaining world-class talent. Apprenticeships, an "earn-while-you-learn" model, provide the opportunity to develop the skills of a trade, under the guidance of experienced professionals, those who have mastered their craft. Apprenticeships are an excellent industry entry point for those who learn best by active participation and hands-on experiences. Here are a few of the types of apprenticeships the industry offers:
Gas Apprentice
Gas Apprentices perform gas service duties including responding to gas emergencies (i.e. leaks, carbon monoxide, fire calls, etc.), install residential and commercial gas meters, perform pipe work at customer locations, and work on gas appliances. These skilled generalists are often called for overtime. Gas apprenticeships are an excellent transition point for those who have had experience in welding, pipefitting, HVAC or excavating equipment operation.
Above Ground Technician – General Apprentice
This entry-level position is responsible for performing tasks in support of field operations to include deactivation of service, delayed match, corrosion inspections, meter paints, reading meters and assisting with other maintenance activities as needed. In this role, workers serve as a member of a crew engaged in installing, maintaining, and repairing gas mains and service lines. This is a great "foot in the door" role for those who enjoy being part of a team and working outdoors.
Below Ground Technician – General Apprentice
Engage in this position as a member of a crew that is responsible for installing, maintaining, and repairing gas mains and service lines. Those in this role perform basic tasks including operating heavy equipment, using hand tools, basic leak investigation, assisting in mechanical joining, landscape maintenance and traffic control. This construction type role requires rigorous physical labor and a strong focus on compliance and safety. This role offers great opportunity for advancement and potential leadership roles.
Careers in Skilled Trades
Skilled trades are positions that require specialized expertise, skills, and knowledge, generally earned through on-the-job training, technical school, or college coursework. These professionals earn indispensable (and indisputable!) mastery of a craft essential to their trade. The energy industry is supported by millions of skilled trade and craft workers who power and fuel America. Skilled trade workers are often part of a union, an organization that bargains collectively with employers over wages, benefits, and rights. Check out a few of these offerings:
Pipefitter
Pipefitters are integral in the process of construction, maintenance, replacement, and repair of natural gas distribution infrastructure. These skilled trade professionals are in high demand and often find themselves traveling to various job sites in their employer's operating regions. Work responsibilities include:
Installing, maintaining, repairing, and replacing natural gas polyethylene piping
Performing pipe fitting and connections for polyethylene pipe
Joining pipes using butt or socket fusion, electrofusion, or mechanical coupling
Inspecting and testing piping systems for leaks, and more
These positions are ideal for those who have a gift for fixing things and understanding how technical operations work.
Gas Operator
Gas Operators are responsible for operating the machines required to trench for natural gas pipelines. They must be able to dig safely around underground utilities, install natural gas pipelines in the ditch, and provide for sufficient backfill. Critical to the proper repair and installation of gas pipeline, these professionals use their knowledge and expertise to ensure all safety and compliance measures are achieved.
Gas Crew Leader
All good teams need a leader and strong leadership is a hallmark of those who guide gas crews. These individuals are skilled in the construction, maintenance and repair of natural gas distribution infrastructure and they are experienced with the installation of natural gas mainlines and services. The leadership they provide ensures projects are conducted in a safe, timely, and efficient manner through effective planning and project management. This position is a natural in the career progression path for high-achieving gas technicians.
Careers in Engineering/Technical Operation
There are a variety of industry positions that call upon the most technical of thinkers, those who thrive on the how and why of the way things work and those who delight in innovative solution seeking. Here are a few of the positions in which our engineers and technical specialists work:
Engineer
The natural gas industry needs engineers of all specialties to lead large capital projects and smaller-scale capital improvement projects, overseeing a wide range of activities including upgrades and new installations of plant and process equipment (compressors, turbines, valves, piping, vessels, fans, pumps, heat exchangers, motors, motor control centers, fire protection, safety monitoring equipment, and a wide range of instrumentation). These forward-thinking professionals have a wide variety of responsibilities including but not limited to:
Development of studies, specifications, calculations, and evaluations
Design documents, performance assessments, integrated systems analysis, cost estimates and budgets associated with the planning, design, licensing, construction, operation, and maintenance of gas facilities and systems.
As the industry explores new ways to achieve climate control goals, engineers are in great demand to address future operations.
Natural Gas Scheduler
While most technical positions in the natural gas industry involve working outdoors and physical activity, there are also plenty of jobs for those drawn to the profession who would rather contribute in an office environment. Natural gas scheduling analysts, for example, work closely with traders to ensure receipt and delivery of natural gas from upstream suppliers to customers' local utilities. Those who thrive in these positions have exceptional critical thinking skills, strong attention to detail, and excel in a fast-paced work environment with everchanging demands and obstacles.
Gas Technical Trainer
In an industry committed to training, safety, professional development, and career advancement, trainers are integral to developing our most important assets: people. Technical trainers in the gas industry design, develop, and conduct training related to gas operations, associated equipment, and emergency procedures. Ensuring the industry's professionals are skilled in job functions, trainers work with the creation of hands-on simulations, educational videos, and are increasingly working in AR and VR training scenarios. These positions are natural progression points for those who have mastered their craft and are ready to mentor and train tomorrow's workforce.
Reducing Emissions, While Enhancing Infrastructure
Innovation in Action in Natural Gas Smart Meters
Technology Inside Technology
Reducing Emissions, While Enhancing Infrastructure
Washington Gas has implemented an innovative technology – a mobile Drawdown Compressor trailer – to reduce emissions while maintaining and enhancing our infrastructure. When removing old pipelines from service, the equipment captures gas and uses compression technology to inject it back into the system. The gas is 'recycled' and flows through the system as normal. This solution contributes to cleaner air and has a lower carbon impact to protect the environmental health of our communities. The industry continues to look ahead and create society's "what's next."
Innovation in Action in Natural Gas Smart Meters
Yet another example of the importance of innovation in the energy industry – Pipeline Equipment Resources Company (PERC) is upgrading Philadelphia Gas Works current meter reading technology from a drive by system to an AMI system. This new system uses a network of collectors that remotely read every gas meter in Philadelphia! These "smart meters" can also shut off the meters remotely in response to unsafe conditions like high/low pressure, excessive gas flow or heat, and automatically shut the meters off and send an alert. Hats off to the ingenuity provided by the experts behind such technological advances and to those who make it all come to life on a daily basis!
Technology Inside Technology
Ameren (Illinois) is piloting an advanced mobile methane detection unit. This technology allows for instantaneous detection of methane in the atmosphere of sensitivities 1000x greater than traditional handheld units. The analyzer is integrated into a hybrid-electric vehicle which allows for faster, more efficient surveys. Equipped with a sonic anemometer and GPS antenna, the system will predict the source location of methane and provide GPS coordinates to investigate. Ameren is currently evaluating how this technology may integrate into future operations and procedures. Yet another way people are piloting pioneering programs in the energy sector.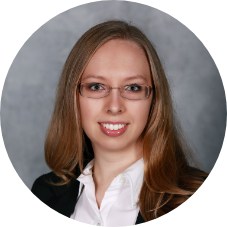 Kristina Roe
Gas Distribution Design Quality Lead
Consumers Energy
I am a gas engineer at Consumers Energy – and I love my job because I am always learning! Throughout my 10-year career in the energy industry, I have worked in both traditional engineering roles (Gas Transmission, Gas Distribution, and Gas Measurement & Regulation) as well as non-traditional roles for an engineer (Information Technology benchmarking, and Enterprise-wide resource planning). It's exciting to work for a company that encourages me to take on new learning opportunities. Most of all, I enjoy working for a company that provides an essential service and knowing that the work I do matters to millions of people in my home state of Michigan!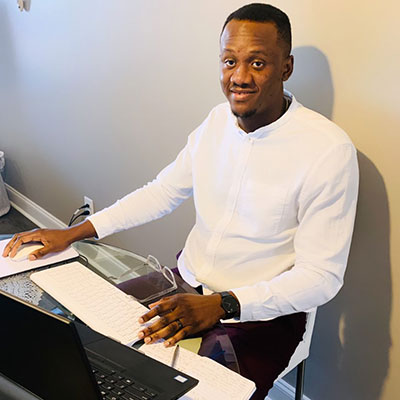 Faratoluwa Oyenuga
Associate Energy Efficiency Consultant
I am an Energy Efficiency Consultant for Eversource Energy. I joined the company as a co-op/intern while in graduate school and after graduating, I was hired full time to join the Energy Efficiency Gas team in Westwood, MA. Eversource has a goal to be carbon neutral by 2030 and energy efficiency plays a major role in achieving this. I am very passionate about Energy Efficiency because it helps in reducing our customers' carbon footprint, which in turn helps to protect the environment. My role is like that of a project manager. I manage the process from sourcing for opportunities to save energy up until final installation of these energy efficiency measures. A lot of these measures are also incentivized through the offerings from the states we operate in, so our customers don't have to cover the entire cost. It is a very fulfilling job because I get to see in real time carbon emission reduction while also helping our customers save money.