The energy industry has some of the strongest participation rates in labor unions in the country.
More than 90% of utility companies are supported by a union workforce. In fact, more than 20 percent of employees at the nation's electric companies are union members. That is the highest level for any industry in the private sector and double the national average. The rate is even higher at nuclear power stations, where more than a third of workers are covered by collective bargaining agreements.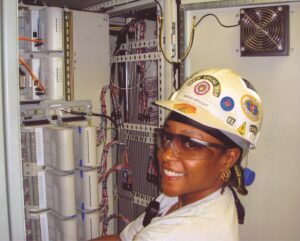 Labor unions have represented energy workers for more than a century. The International Brotherhood of Electrical Workers (IBEW) and the Utility Workers Union of America (UWUA) are among the unions with the most members in the energy industry. Other unions with large representations include the Laborers' International Union of North America (LIUNA), the International Brotherhood of Boilermakers, Service Employees International Union (SEIU), United Steel Workers (USW), and the United Association (UA).
Donnie Colston, director of the Utility Department for the IBEW, said labor unions negotiate with management on behalf of their members for all terms and conditions of employment. This can include wages, health care and retirement benefits, work rules, and working conditions. It is then up to the membership to vote on whether to accept what has been negotiated.
There are two primary ways workers can become members of a union. They may be employed at a company in a position covered by a labor contract. Or they may join a trade union – a union dedicated to a particular trade or craft – and go through the apprenticeship training process.
Jim Harrison, director of renewable energy for the UWUA, said he believes unions benefit workers, employers, and their communities.
"Having [employees with] a say in the workplace is important to ensure that you have a workplace that is productive and benefits the community," Harrison said. "We work to maintain a safe workplace, a good standard of living, the kinds of things you need to raise a family and maintain a community."
Pat Loftus, director of Labor Relations at Southern Company Gas in suburban Chicago agrees that good company-union relations can be beneficial for both parties. He called it a "collective advocacy."
"Not only can we achieve our collective business goals, but there is a deeper purpose," Loftus said. "We share the same values. That translates into providing well-paying jobs with good benefits and ultimately that strengthens communities."
Union members work in a wide variety of jobs in the energy industry. Some are at the entry level, but many others are involved in complex and technical work.
"Many of the jobs are high-skilled jobs," Harrison said. "You are thinking like an engineer, thinking like a scientist. There is lots of problem solving."
And, he added, workers at every level are proud of the work they do.
"The people are dedicated to their job, they are dedicated to public service," he said. "They are dedicated to ensuring we have a modern functioning society."
Along with negotiating wages, benefits and working conditions, Loftus said labor and management often work together on other issues. One example he cited was ensuring diversity, equity, and inclusion in the workplace.
"We are a reflection of the communities we serve," Loftus said.
IBEW International President Lonnie R. Stephenson highlighted the importance of the issue.
"There is a place in the IBEW for working people of every race and gender, every religion and sexual orientation, every background," Stephenson said.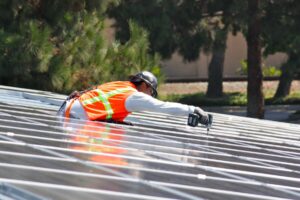 Another area of joint focus for labor and management is in helping military veterans make the transition back to civilian life and good jobs in the private sector. This includes programs such as the Utility Workers Military Assistance Program (UMAP), U.S. Military Veterans Electrical Entry Program (VEEP) and Troops to Energy Jobs.
The key to a successful labor-management relationship is open and clear two-way communications, Loftus said.
"We can understand potential problems and get out in front of them," he said