Why Guide Students to Energy
As an educator, you have the privilege of sparking "a ha" moments for your students. Your lesson plans, experiments, assignments, and encouragement inspire tomorrow's workforce. As you prepare them for what's ahead, there are many reasons to introduce your students to careers in energy. Energy is a high-growth sector that added more than 900,000 jobs between 2015-2019—about a tenth of total growth nationwide during this period. The energy sector also offers strong earning potential.
While industry growth and compensation numbers are impressive, the more important reason to introduce students to the energy sector, is the essential, interesting, and innovative work to be done. The kind of work that offers great satisfaction and feelings of accomplishment and pride.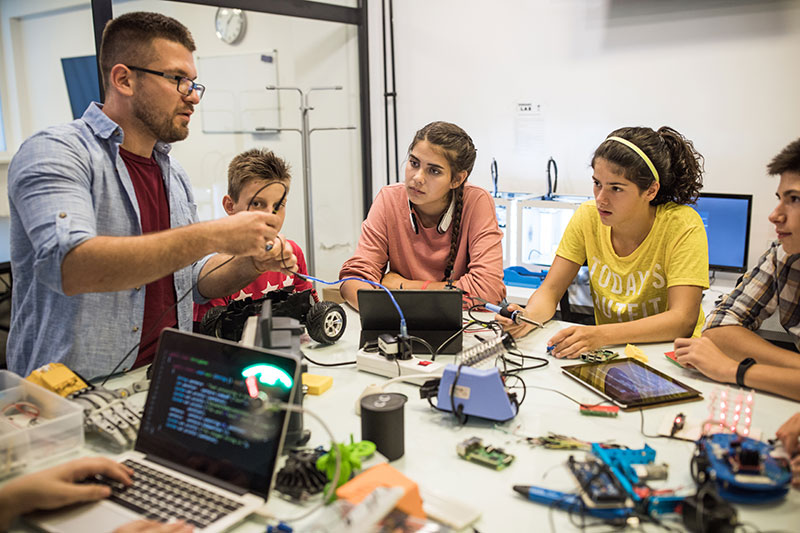 Energy Industry Fundamentals (EIF) Curriculum
January, 2023:  CEWD is enhancing the current Energy Industry Fundamentals Curriculum as part of its work to ensure a skilled, diverse energy workforce. More than 500,000 students will complete the new EIF curriculum over the next ten years, especially those from systemically marginalized communities who are least likely to be familiar with energy careers.  The enhanced curriculum is expected to debut in the fall of 2024. Read more about these updates here.
As always, Energy Industry Fundamentals provides a broad understanding of the electric and natural gas utility industry and the energy generation, transmission, and distribution infrastructure, commonly called the "largest machine in the world," which forms the backbone for the industry. The course includes business models, regulations, types of energy and their conversion to usable energy such as electric power, how generated power is transmitted and distributed to the point of use, emerging technologies, and the connection to careers in the energy industry.
EIF contains six course modules developed for a variety of audiences.  The modules may be offered separately or as a certificate program totaling approximately 130 hours of instruction. The majority of the modules are designed to be instructor lead, but offer flexibility for hybrid learning. These modules include an Instructor Guide with hands-on activities, such as labs, and games; PowerPoint presentations for interactive instruction; and finally, a Student Guide with multiple units of study. The Career Exploration module is online and can be used in a classroom setting, but is also effective for students to explore on their own. Please review the EIF Overview for additional details.
Before an instructor can embed the EIF Curriculum in their classroom, it is important to qualify as an EIF Approved Course Provider (ACP). While educational institutions are free to choose their own instructors to teach the modules, it is recommended that they meet the guidelines of the Instructor Profiles provided by CEWD. Also, an educational institution must have a partnership in place with a local utility who is a member of CEWD in good standing in order to be approved as a curriculum provider.
If you are interested in learning how you can make a difference by supporting EIF, please click here.  If you have any specific questions or comments, you can email Kristie Kelley,  Director, Workforce Development directly by clicking here.   
The goal of the Get into Energy / Get into STEM program is not only to help students see the exciting STEM career opportunities available in the energy industry. It also strives to provide educators with free but very valuable tools and information to help our future workforce Get into STEM.
Here are some examples of the opportunities available for teachers:
Curriculum Resources / Lesson Plans