Among the unsung heroes that keep America's energy flowing are private contractors and their employees. They are key contributors to everything from maintaining electric reliability to refueling nuclear power stations to laying natural gas pipelines.
Electric and natural gas utilities, interstate pipelines, power station operators, and others hire contracting firms for a variety of reasons. In some cases, it is because they don't have in-house the special expertise of a contractor. Maybe it is for a major construction project or using helicopters to trim trees away from power lines. Other times, contractors are called in to quickly augment staff for special projects or help with storm recovery.
Contractor employees range from entry-level laborers to highly skilled trade and technical professionals.
They are motivated by the same thing as others in the energy industry.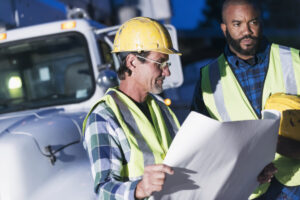 "You are doing things that matter," said Lauren Phillips, director of human resources at Mears Group, which provides engineering, construction, and maintenance services. "Energy is involved in every minute of your life."
Hiring at many contracting firms has been brisk as government and industry invest billions of dollars to meet new energy demand and support cleaner energy. Many job candidates are coming from the military as well as directly out of high school and college.
"The market is booming," said Eric Thigpen, senior operations director at MasTec Utility Services, which supplies engineering, procurement, construction, and maintenance services. "Everyone is looking to hire."
Contractors are becoming highly creative as they look to recruit new employees.
For example, Lewis Tree Service treated potential employees in Michigan to a night at a minor league baseball game. As part of the evening, the vegetation management firm did interviews and made job offers on the spot.
"We know it's not enough to advertise and get your message out there," said Kara Roth, director of strategic staffing for Lewis. "You have to engage with people, engage with the community in a more high-touch way."
Contracting assignments can be local, supporting the same energy company for months or years. Other work can involve out-of-town assignments for weeks or months.
"If you want to travel, to see the country, there are opportunities," Phillips said. "But if you don't want to travel, you want to come home every night, you can do that, too."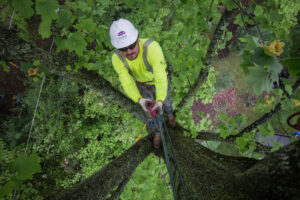 Much of working for a contracting firm is the same as working for a utility or other energy provider. Thigpen, Roth, and Phillips agreed that safety is the No. 1 priority. In considering whether to work for a contractor – or any company – they said a potential employee should carefully examine the safety record, culture, and training.
Prospective employees also should look at the financial stability and overall reputation of the contractor, Thigpen said. "
You want to be safe, and you want to get paid," he said.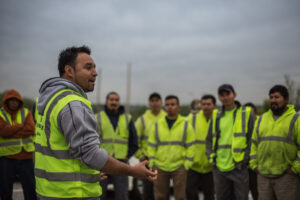 Pay rates and benefits are gaining parity with that of the customers they support. In some cases, they are even better.
As with other energy companies, there is an opportunity for training and career progression.
"We train them from the ground, up," said Lewis Tree's Roth.
One thing that is different, the contractor representatives said, is that contractors can often have more flexibility to get the work done. They also can have opportunities to move into different segments of the energy sector.
"Everywhere you interview they will tell you it is fast-paced," Phillips said. "It is actually very fast-paced here. We move very, very quickly."