When a hurricane hits, high-speed winds and dangerous storm surges blast through neighborhoods, toppling power lines and leaving communities in the dark. In the wake of these and other devastating storms, families can sit for days or weeks without the ability to cool their homes or even cook a hot meal for their children.
As others take shelter, Manuel Green gets ready to head into the storm. He knows his skills as a lineman will be needed now, more than ever.
The 37-year-old former accountant joins his fellow crew members to face the elements for days on end, often in brutally hot Louisiana weather. It's up to him to bring people out of the dark, get their fans and air conditioners running and dinner back on the table.
"You go into an area where people are out of power. They're angry. They are sitting outside under a shade tree," said Green, who left his office job for lineworker training school in 2018. "This one woman said, 'I've been out of power for three days and I keep seeing trucks go by.' I told her, 'I promise you, we are not leaving 'til you get your power back.' She was skeptical, but within a few hours we had that area back in power and the woman came outside and she was dancing on her porch. I will never forget that woman."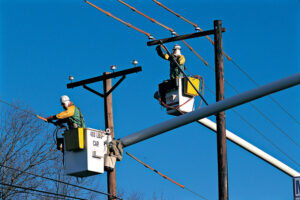 That woman – and others like her – are why Green gets up in the morning. Being an accountant, he said, "was not something I was in love with. It was something I was good at. I used to wake up and say, 'I guess I'm going to work today.' Now my alarm goes off at 5 a.m. and I have no problem getting up and going to work."
Green grew up working and playing outdoors. He went to college because he was a good student and his mother encouraged him to do so. But after eight years working in an office, he knew it wasn't something he wanted to do for the rest of his life.
"It was a big step, to leave a stable job like that. But I am 100% so glad I took the chance," he said. "I love what I do now."
So does Joey Kong, who left commercial fishing in 2019 to become a lineworker. Less than a year after he finished training and was hired by Entergy, he got his first storm call. Hurricane Laura, one of the strongest hurricanes to ever make landfall in Louisiana, was coming.
Kong spent six weeks on the road, four hours from home, restoring power to families whose lives were devastated by the category four storm that came ashore near the Texas border.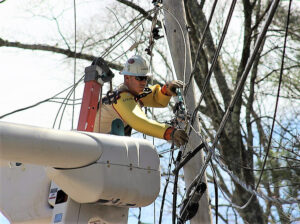 "That was a pretty messed up situation," Kong remembers. "When that storm hit, we didn't think it was going to be so bad. A day before it made landfall, they told me, 'We need you to pack up, be here at the yard.' I definitely didn't expect to be gone so long."
Kong and his crew drove straight into the ferocious weather blasting Louisiana before the bulk of Laura made landfall. "We went to go wait it out in Lafayette," he said, "so we'd be ready when it was time to do the work. The day after it made landfall, the roads weren't clear so we couldn't go in yet, so we did jobs in Lafayette for a few days."
When enough debris was cleared for them to make the drive to Lake Charles, traffic was so backed up what should have been a one-hour drive took 10. "There was no power there, at all," said Kong. "No cell phone towers, either. It was just dark over there."
Kong was assigned the task of assessing what was needed to put people back online. "Electricity comes from a generating plant and goes to a substation," he said. "Then it's distributed to hospitals, police officers, firefighters, and then commercial and residential areas. We had to start all the way from the beginning at that substation. That hurricane took everything out. Even the transmission lines were down. We can't do anything without transmission lines."
After five weeks doing assessments, Kong was put to work fixing residential power lines, where he found himself face-to-face with families whose neighborhoods had been destroyed. "They were so happy to see us," he said. "These people were left with literally nothing. I felt almost like Superman. You just give people hope."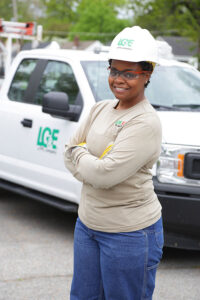 While restoring power is part of any lineworker's job, storm response work is voluntary, said Donnie Colston, a director at IBEW, the union that represents utility workers.
Most utilities belong to mutual assistance programs that allow them to reach out for help when a big storm or other catastrophic event hits, Colston said. Regional coordinators identify how much help is needed where and for how long, then connect available crews from
participating utilities to the companies that need their help.
"Each utility evaluates how many people they can send," he said. "The union coordinates who those workers are, how many openings we can fill and who is available to go."
Crew members like Kong and Green do it, Colston said, because of the pride they take in their ability to help the community.
"When you have the ability to roll into a neighborhood and there's no power and every possession they have is on the front lawn, you know you have the ability to give them at least some normalcy," said Colston, who once worked the line himself. "Maybe they can cook a warm meal or run a saw to clean up their home. The good thing about being a lineman is you get to see the end result. When I come in, you don't have power. When I leave, you do have power. You get to see what you did and the reaction of the customer. It's a very satisfying job."
Even when customers start out angry, he said, they end up happy.
"I was working a four to five-day storm and when I showed up at this house, the homeowner came out and said, 'I want to know where you've been for four days.' And my response was, "My wife asked me the same thing." She said, 'Point taken, my apologies, thank you for coming.'"
The good parts of the job definitely outweigh the bad, said Green. Long hours, bad weather, and angry customers are all forgotten when "you have that one customer that comes outside and hugs you because they went three days without power and it's hot. Or a family that brings you food, because they went four or five days without food and they are so grateful. Words cannot describe that feeling."
Kong and Green point to the camaraderie that develops among crew members as part of the fuel that keeps them going during tough conditions.
"You see those on your crew 40-70 hours a week," said Green. "You form a tight-knit group. You see these people sometimes more than you see your family. And everybody's treated the same. Our crew leader will get a shovel and dig a hole with us. It's something I wasn't used to seeing at my old job. When you have a group of people that gets along like that, it's something you want to be part of."
Another benefit of the job? Knowing you'll always have one, said Kong.
"It's actually one of the reasons I got out of the fishing industry," he said. "I used to work seasonally, and you get what you get. This line of work is never-ending."
"After this last year with COVID, a lot of people got laid off," he said. "Working for an energy company, there's no such thing as that. You're needed. It's nice to know you're needed."
"Everywhere needs electricity. Everywhere in the world."