If you want to be a part of America's drive to electric vehicles, working for an energy company is a good place to be.
Building rapid charging stations. Generating and moving clean power to where and when it is needed. Solving complex IT and information analysis challenges. Showing customers how to maximize the benefits of EVs. Even taming the so-called "dragon curve," matching the spikes in vehicle recharging needs with power supply.
All those EV-related career opportunities and more are growing at a rapid pace.
"The career opportunities are broad, meaning you have a range of opportunities," said David Fortney, who is helping to lead EV-related workforce planning and development at Portland General Electric in Oregon.
"And the pool is deep. You have early career occupations that you can jump right into, and you can progress to jobs with master's, doctorate degrees for some engineering and electrical positions."
The nation is headed toward a major shift in what powers its cars, trucks, buses, and other vehicles. President Biden has announced an ambitious effort to transition the United States to electric vehicles to help combat climate change. He wants half of all new vehicles sold in 2030 to be fully electric or plug-in hybrids. President Biden's goal is backed by some of the nation's largest automakers and labor groups including Ford, General Motors, Stellantis (formerly Fiat-Chrysler), and the United Auto Workers.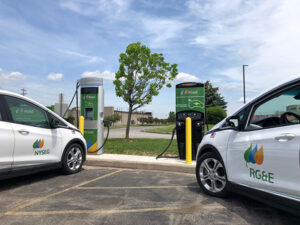 Making that happen requires more than manufacturing enough vehicles. According to some estimates, electric companies will have to invest as much as $200 billion by 2030 to accommodate the vehicles and their drivers. Along with charging stations, significant work needs to be done to upgrade transmission and distribution networks and ensure there is enough clean energy. Driving a typical electric vehicle 100 miles uses about the same amount of electricity as an average American home consumes in a day.
That investment means jobs.
Peter King, an electric transportation project manager for Duke Energy in Florida, said it is easy to document the rapid increase in career opportunities for anyone interested in electric vehicles.
"I would go to LinkedIn a few years ago and type in 'electric vehicles' and got almost nothing," King said. "Now, several pages of job openings will fill up."
One of the obvious opportunities is for electricians. Along with installing charging stations at public locations, utilities are looking to install them in customers' home and business garages – areas they typically have not be involved in before. They call it "behind the meter."
"We are asking, 'Does it make sense for us to build a new workforce segment, new crews, new teams to do that work?'" Fortney said.
But the opportunities are much greater. The complexity of the task – balancing supply and demand, multi-directional flow of energy, integrating more renewable energy, and the like – is unlike anything the industry has done before. And that gives power to knowledge and creates jobs.
"There is a lot of need for data analysis," King said. "The data grows by orders of magnitude every year. The impact on the grid? Where do we go with this? That kind of stuff."
There are needs for telecommunications technicians, software programmers, project managers, engineers of all types, marketing communications experts, and many more specialties.
Fortney sees one other opportunity from the rise of EVs. By starting from scratch to build their organizations, companies can have a much greater impact on diversity, equity, and inclusion.
"We have a really amazing opportunity to, from the very beginning of this industry, to figure out how we diversify occupations within the industry," he said. "We need to build in pathways for underrepresented communities."