Electric power is a $400 billion dollar industry with a massive workforce. With older generations retiring, aging power systems, and new initiatives for clean energy and electric vehicles, demand for energy professionals is high, and expected to grow.
That demand is especially true about the need for lineworkers, those responsible for powering our country by operating, maintaining, and constructing a safe and reliable electrical grid.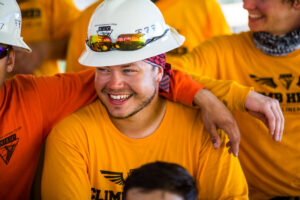 If the idea of being well-paid to work outdoors is appealing; or, if you are looking for a career that utilizes your
technical talents; or, if you are searching for a missing piece in your career journey, it may be time to consider a career as a lineworker.
There are several ways you can prepare for employment as a lineworker, including through apprenticeship, community college courses, and technical trade schools. Over the last 30 years, the rise of linework trade schools has grown and maximized value for both individuals starting their career, and the companies that hire them.
Today, you can graduate from a 15-week pre-apprentice training program with the equivalent education of a first-year apprentice, and be qualified for entry-level positions at many different companies and organizations.
What Will You Learn in Trade School?
Pre-apprentice training programs equip students with the knowledge, skills and behaviors necessary to be successful in the trade. Through classroom, lab, and field training, students learn electrical theory and are introduced to how they can safely construct, maintain and operate the nation's power grid using the most advanced construction and safety equipment available. While course offerings vary between programs, most schools teach similar competencies.
For instance, Northwest Lineman College, operating in Florida, California, Idaho, and Texas, teaches students to:
Maintain, operate and construct high-voltage lines and equipment
Work in elevated positions, using the most up-to-date safety equipment
Operate heavy equipment such as cranes, boom trucks, and digger derricks
Be a first responder to restore power after natural disasters and incidental outages
Build the smart grid and intelligent grid of the future
What Should you Look for in a Lineworker Training Program?
When considering trade schools, obviously consider the training that is offered. Ask about the instructors and the experience they bring to teaching. Understand relationships the schools have with employers and what the average placement rates are. You may wish to consider programs that include teaching beyond technical competencies, such as programs that instruct you how to develop your resumé and present yourself professionally from the moment you walk in an employer's door. Companies look for people who can elevate their culture and contribute to safe and effective work environments.
How Much Do Trade School Programs Cost?
The price to attend a Linework school varies greatly. Doing your due diligence and research pays off in choosing a school that will partner with you and your dreams. There are a lot of factors that impact expense variations, including instructor ratios, geography, program size, tool and equipment fees, etc.
What to Expect After Graduation?
Most training schools have established relationships with energy companies and they help field connections for their students. To maximize post-graduation opportunities, if circumstances permit, students should be willing to work anywhere. Those who are geographically flexible have the strongest potential for multiple employment offers. Even if your first position is not located where you want to live long-term, it might be exactly what your resumé needs to get you where you want to go.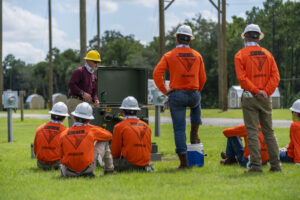 Industries with a high demand for labor often create increased opportunities for career progression. That means if you are a high performer, you will have ample opportunity to work your way up from entry-level to higher positions such as Crew Leader, Superintendent, Director and others as your career progresses.
Linework offers strong opportunities for people who seek strong compensation, benefits, and the satisfaction of serving their community. You can learn more about careers in linework by talking with recruiters from energy companies in your area, meeting with admissions consultants at trade schools, or exploring programs offered at local community colleges.
Those familiar with the energy industry can help you determine if a career in linework is a fit for you. Courtesy of Bill Bosch, Sr., Vice President of Campus Operations, Northwest Lineman College