Discover a Career as a


Solar Photovoltaic (PV) Installer
Discover your career path in the energy industry.
Learn where your interests will take you. Explore the meaningful work in which you can immerse yourself. Set your sites on what you can learn and the increasing responsibilities that can be yours. See how you will be challenged and what will you accomplish.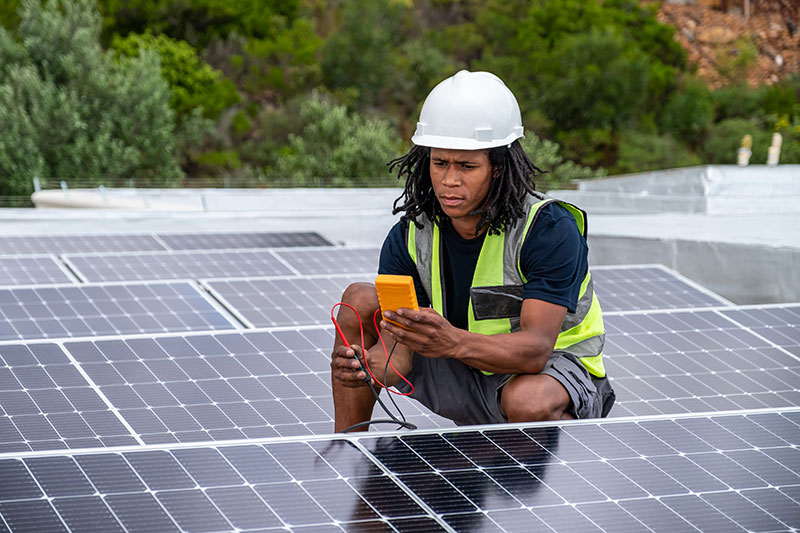 *Compensation averages should be used as a guide. There are numerous factors that impact actual compensation. These estimates do not include over-time, which can be a sizeable addition to base pay. Years of service and training recommendations should also be used as a guide. Company requirements vary.
Note: Some energy companies may require pre-employment testing. Please check the job requirements. These may include an EEI Pre-Employment Test or a Physical Abilities Test.
Solar Photovoltaic Installer
Starting off as a Solar Assembler / Groundperson
Move and stage materials
Assemble solar rack components
Solar module staging
Use hand and power tools
Maintain a clean worksite
What knowledge / skills / abilities will you need?
Strong mechanical aptitude
Ability to follow directions
Adherence to safety procedures
Ability to do physical labor
Ability to work in all weather
Must be punctual and reliable
Starting off as a Solar PV Installer:
Assemble the solar array racking system and properly seal
all roof penetrations
Layout assembly and installation of solar panels and
mounting hardware
Assist with the electrical wiring of all energy products
Prepare and clean-up job site
Provide an exceptional customer experience
Maintain a professional appearance and attitude
What knowledge / skills / abilities will you need?
Experience with electrical systems and general construction
Ability to safely handle tools and materials such as: ladders, inverters, and solar panels
Ability to work in outdoor environments
Capable of working at heights including on rooftops, climbing ladders and stairs
Conscientious about safety, knowledge of OSHA standards
Must be able to lift 50 pounds
Direct and supervise installation team members
Install all photovoltaic system components and
electrical equipment
Ensure successful operation of complete photovoltaic system
Communicate project status with Project Coordinator
and Management
What knowledge / skills / abilities will you need?
Experience in PV installation and electrical wiring
NABCEP certification
Strong communication skills
Proven leadership capabilities
Ability to order/manage materials
Quality workmanship and customer service
Troubleshoot and repair equipment on utility/commercial/residential solar installations from the modules to the point of interconnection
Respond to offline equipment when dispatched by operations
Perform quality assurance inspections and preventative maintenance
Create and submit field service reports
What knowledge / skills / abilities will you need?
NABCEP PV Professional Certification
Strong understanding of electrical systems and of grid-tied, off-grid and hybrid PV system design and installation
Ability to fly drone for general system and thermal imaging
Proficient skills with computers
 Industrial Communications & Networking knowledge
Excellent interpersonal skills and attention to detail
Must be able to work outdoors in inclement weather
Design and engineer residential and commercial PV
solar systems
Coordinate and lead activities between clients, utilities,
permit agencies, contractors, manufacturers and other engineering firms
Travel to project sites to gather site-specific data
Provide technical direction or support to installation teams during installation, start-up, testing, system commissioning, or performance monitoring
Review specifications and recommend engineering or product changes to achieve solar design objectives or improve efficiency, quality, code compliance or performance
What knowledge / skills / abilities will you need?
Bachelor's Degree in Electrical or Mechanical Engineering, or intermediate-to-extensive experience in the solar industry
Familiar with different types of PV and electrical equipment
Knowledge in PV design and AutoCAD
Excellent communication, organization & time management skills
Proficiency in MS Office: Excel, Word, etc.
Natural ability work in a team environment as well as independently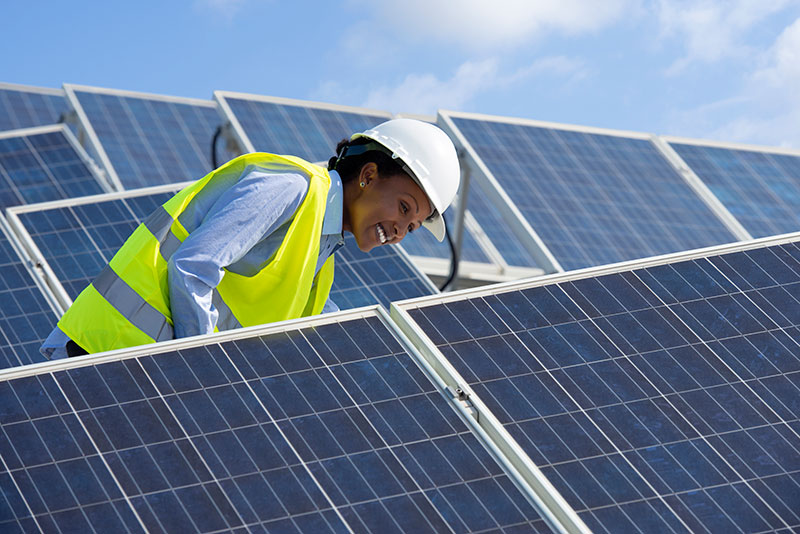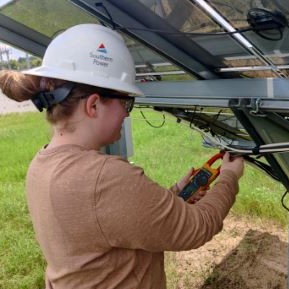 "I enjoy the pace of the job. I stay pretty busy and there's always something to do. I'm never bored, and I'm always learning something. There are enough new things to learn that the job constantly changes and evolves."
Kiera Nelson
Solar Technician
Southern Power