Many people who work in energy can remember when finding job opportunities in the industry was all about "who you knew."
Maybe a grandfather worked for an energy company and then an uncle. It was a family connection, or a good friend worked at the company, and that's how open positions were quickly snatched up.
"When I first joined, I remember people asking me, "Who do you know?" or "How did you get in?" explains Joyce Cooper, director of Diversity and Inclusion at Omaha Public Power District (OPPD) in Omaha, Nebraska, explaining that this was how energy's pipeline of talent was built years ago.
"Although there are still a number of family ties within the industry, the door has widened to a broader talent pool today," Cooper says. "The narrative has been changing over the past 10 years. Today, it's much less about having connections and more about what skills and talents you bring to the table."
What's more, energy companies recognize the need for diversity in their organizations to better reflect their customer bases.
"Utilities were largely companies of family members, but now we're breaking down some of those barriers to improve access to great careers," explains Baird McKevitt, director of Inclusion and Diversity with Xcel Energy.
"But the easiest way to talk about the industry and how you can be a part of it regardless of your background is understanding that everybody needs energy services; it's a basic need. And we welcome everybody and anybody who wants to develop the skills needed to be a part of that ability to provide that service to customers."
In fact, "that's where our responsibility comes into play to be out in the community creating awareness about opportunities in energy, so the available workforce represents the people in our communities," McKevitt adds.
Here's how energy businesses today are focusing time and dollars into building programs to improve their diversity talent and pipeline.
Ensuring DE&I Is a Priority
"We're constantly looking at our pipeline and how we are growing in the spectrum of diversity," Cooper shares. Today, OPPD has a Mexican-American CEO and 50% of its Board of Directors are female. "We are working on building diverse pools in various areas of the company so that we have people in place to continue growing their careers. We're making progress, but we know there's more work to do."
"Data is everything," adds Silas Dulan, director of Diversity, Equity, and Inclusion at Evergy. "You have to understand your demographics, have a snapshot of what your organization looks like, and then use that data to help build your plan.
The right data should give us a clear indication of what our organization will look like down the road and who we have to succeed people as they retire from a leadership perspective. If demographics aren't there in certain areas, then we see it as a huge opportunity to make a difference.
For instance, if we serve a black community but don't have any black line workers, there's an opportunity to grow there.
If we serve a Hispanic community, growing our Hispanic workforce could improve our service because they can better speak the language of the customer base. All of this data gives us an opportunity to get excited and make an impactful change to the community."
Another reason diversity is important to energy businesses is for growth and performance.
In any organization, the greater the diversity representation, the higher the likelihood of outperformance. According to McKinsey research from 2020, companies with higher ethnic and cultural diversity outperformed others by 36% in profitability. And Forbes magazine reports that companies with above-average diversity produced a greater proportion of revenue from innovation (45%) than companies with below average diversity (26%).
Increased innovation is certainly another benefit of diversity for energy companies. "Innovation is so important," Cooper says. "We're in an industry that is rapidly changing. Many people don't think about the energy industry for a career. The work remains unseen as long as their energy supply is affordable and reliable. But now, in addition to that, more people want to see renewables, and they are growing more interested in the changes happening in the industry. We need innovation to continue to adapt to these changes and grow."
First, Ask the Questions
To begin to understand where an energy company needs to go to make its employees feel equally represented, it must ask them.
Xcel Energy uses an inclusion index that it sends out twice a year to ask employees how they feel about their work environment. The results help the company make changes where necessary, McKevitt explains.
The simple, six-question index asks each employee to express feelings about belonging, authenticity, recognition, empowerment, and the ability to speak up. Xcel can then use this emotional metric to see if data differs by gender, race, or even different types of positions in the company.
Then, Educate the Team
Diversity is also something that requires continued understanding and dialogue. To address the unique needs of various segments of its workforce and find ways the entire team can work better together, OPPD creates immersive experiences with diverse employee groups. This helps them form support networks, learn, and grow together to create an inclusive culture.
Diversity, equity, and inclusion work is the responsibility of every employee. For instance, White Men as Full Diversity Partners is a national program, in which OPPD participates, where white male leaders spend three and a half days exploring their own culture and learning about other cultures in the workplace. "They come out with increased knowledge about themselves and how they can be allies to others," Cooper says. "They learn how different groups experience the workplace in different ways based on their backgrounds, and this helps them to be better leaders."
Another program OPPD uses to boost diversity and inclusion discussions is called The Gathering. They have two of these: one for professional women and one for professionals of color. Before the pandemic, each group would spend two days off-site, working through this immersive experience, repeating the process again one month later for a total of four days. Today, to respect pandemic rules, group members take part in four-hour meetings, four days a week for one month and then repeat that again one month later. Each group member also gets to share their thoughts on the company's diversity initiatives or make improvement suggestions with the VP of human capital and other executives. The company gathers that data and uses the insight to implement changes.
"They get to share common struggles and strategies in a place where they can speak openly and comfortably and not feel like they are offending anyone," Cooper explains.
In addition to immersive experiences, most energy companies have employee resource groups (ERGs) or business resource groups (BRGs) that employees can belong to so they feel a connection to similar coworkers and can look at policies and help shape the culture of the organization together.
Next, Engage the Communities
Most energy companies spend time giving back to their communities through donations and volunteering employees' time. Meeting the needs of the communities the companies service is a huge part of their work. And it can also be a place to learn about the needs of future talent.
Companies like OPPD are spending time working with high school students in the Legacy program to educate them on energy industry opportunities and paid internships, as well as provide them with key life skills, such as character development and employability skills.
Legacy college students have participated in The Gathering, too. OPPD gathers their unique viewpoints and ideas.
"Here, not only do we do work to educate young people on the energy industry, but we are also learning the differences between how different generations think," Cooper says. "The group said the company needed more spaces for sitting and collaborating with each other, and suggested we display employee artwork in our facilities to brighten up our workspaces. This is not something we thought about before, but it became something we decided to initiate because of the great dialogue and response."
Finally, Make Diversity a Daily Habit
In addition to surveys, immersive experiences, and engaging their communities, energy companies are also trying to live and breathe diversity on a daily basis.
Evergy, for instance, looks at four key areas when thinking about diversity, equity, and inclusion: supplier diversity, employee development, employee engagement, and the talent pipeline. The company's DE&I Council is the governing body of the four initiatives, with the company's president/CEO as the executive sponsor and Dulan as the chair. "Those four areas are tied to their leadership team executives' compensation," Dulan explains. "So, each of them has a stake in key improvements in these areas."
The company also recognized in conversations with its employees – particularly during a town hall when speaking with black employees in 2020 after the death of George Floyd – that talking about inclusion regularly is needed; it can be comforting and help employees feel better.
"Just like we talk about safety daily and it becomes a part of muscle memory, we can talk about inclusion more often and recognize and celebrate our unique differences," Dulan explains.
To address this, Evergy added inclusion moments to any meeting with three or more employees. The topics can range from current events like Pride Month, Hispanic Heritage Month, or Veterans Day, or it can cover other important areas of inclusion, such as looking at the percentage of people who are left-handed or learning how to properly pronounce people's names – and that it is not a sign of weakness or unintelligence to ask about proper pronunciation. Dulan keeps a library of these diversity, equity, and inclusion topics to ensure people have points to cover during their meetings.
"Even something as simple as a quick conversation about name pronunciation can help make people feel like they belong because you took the time to ask and maybe even learned the story behind their name," Dulan explains.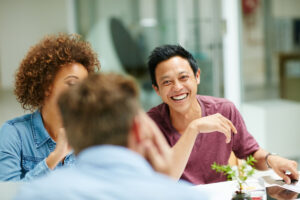 And this daily recognition is how all employees at energy companies will continue to feel more included.
"It's important to recognize the different needs and wants of employees and customers and be able to create a culture that allows everyone to belong," Cooper says. "There's a real intention about embracing diversity, equity, and inclusion because we know we will be better companies and better serve our customers because of it."